Products
Junior Basic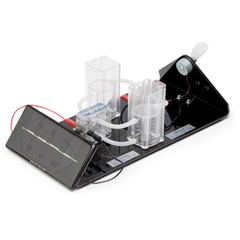 宝泉株式会社はドイツ リューベックに本社を置く、燃料電池キット製造メーカー:h-tec社の日本代理店です。

http://www.h-tec.com/jp/education/products/

PEM 電気分解セル、純水タンク、PEM 燃料電池から成る小型のデモンストレーションシステムです。
Electrolyzer: 1W
Fuel cell: 500 mW
Gas storage: 20 cm? H2; 20 cm? O2
Solar module: 2.0 V / 350mA
Fane: 10 mW
H x W x D: 200 x 300 x 150 mm
Weight: 600 g
Solar hydrogen experimantation system consisting of solar module, PEM
electrolyzer, hydrogen and oxygen storage tanks, PEM fuel cell, and
electric load; mounted on a black base plate.